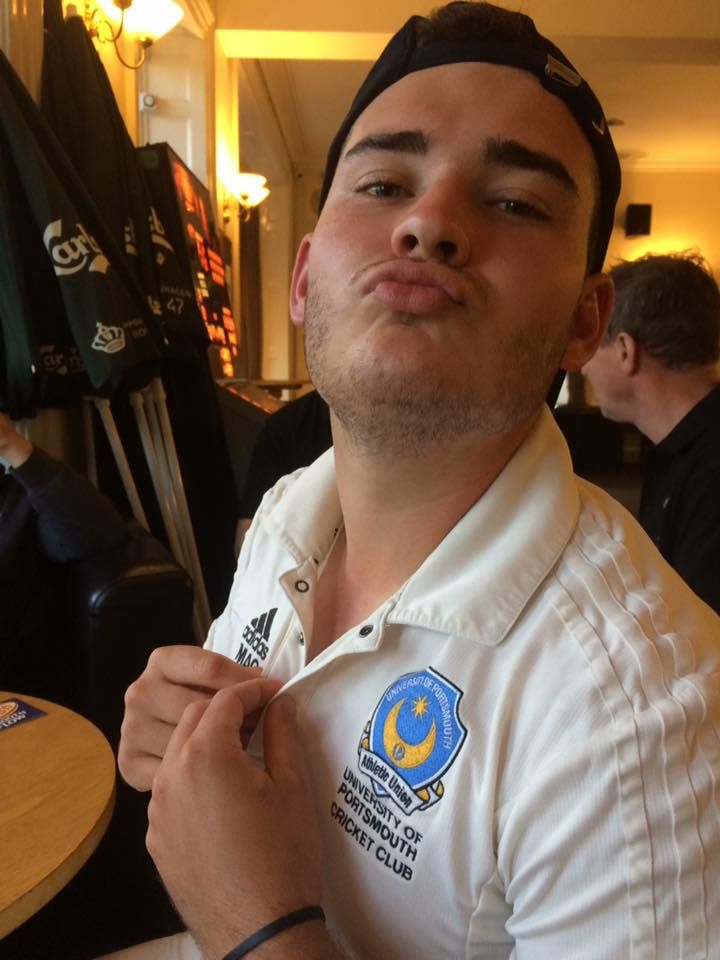 1. Tom Lee

Stalwart at the top of the order since i joined the club. To put it simply, he scores runs when others dont, and has got us out of trouble more times than he should've done over the last 3 years. Great chat, good tunes, sinks piss. The worst backward point in history.

2. J. Askew

Although he hasnt delivered in the last couple of seasons with the bat, he is the perfect foil for the less aggressive Tom Lee. Jim has the potential to be a run machine. People tell me about this so called 'magic season' he had the year before i arrived, I say bullshit, cause we havent seen it since. Dead cert to keep mid off in the game at all times. Miserable skipper who prioritises Portsmouth FC over LCC but a great record nonetheless. Buckets at first grab off the meds.

3. Chris Heberlein

For me Chris is the most frustrating player that I have ever played with. He makes batting looks ridiculously easy when he wants to, but can also make it look more complicated than doing a Rubix cude blindfolded. However, I cant ignore the ability that is there, and I firmly believe that a position up the order with more responsibility will eek out a shed load of runs in the coming years.

Hebs also forms part of the iconic barrage of right arm medium pacers at the club. In this department, nobody can ever question his willingness to do whatever role is asked of him. Whether it be running in at the death or bowling from an end thats equally as slippy as an ice rink. Just let us know what pace you're feeling like bowling because its a nightmare at slip to try and work out.

I also love the unpredictability that comes when playing with Hebsy. Will he finish the game, or will he have to nip off to the hospital to have his shoulder popped back in. Its very exciting. Provides a gun scorer in the form of Mrs Hebs. Legend.

4. Ally James

I have a lot of respect for Ally, having gone through an equally poor time with the bat out here in New Zealand as he did last summer. If i was writing this a year ago,, I would have confidently said that Ally is the best player at the club. There are a few reasons for this, but namely, he took a screamer against Southwater in my first year at the club, and he finds ways to score runs in big games.

Similarly to Hebs, Ally can go through phases of not knowing what end of the cricket bat to hold. However, as soon as you see the pull shot and the slog sweep come out, you know you're in for a treat.

Ally loves the social side to the game... once a season. Another big positive is that Ally provides a large proportion of the LCC fan base. Connie, Buddy and Dax will often be found patrolling the boundary, in hope that Ally may actually hit one again next season.

5. Mike Askew (WK)

Niggly player that can get under the skin of any opposition. Having threatened to score runs over the last 3 seasons, last year turned out to be a very good year for Mikey. Funny what being given a more crucial role can do really. A good trainer that wants to work on his game at all times. Mike genuinely takes pride of his ability to take a ball from outside off and put it over cow for six. As some would say, 'you love to see it'.

With the gloves on, he's not pretty, but he catches nearly everything and if he doesnt, he parries it to me at slip. Reliable. Mike did however go through a weird phase of keeping with a mask on. This came about after being cleaned up in the face from a really quick bowler that he should'nt have ever stood up to in the first place.

Loves a social beer, supports a shit football team, guaranteed to give you a send off when you get out.

6. Only cause i've been told that i have to include myself in the team, ill go for the position ive filled the most whilst being at the club.

7. Jack Turner

Harsh to put JT down at 7 but he's still young and learning about his game. I wanted an extra batsman because of the abundance of all rounders that I have in this team. Jacko looks the most naturally gifted player on his day and can hurt a team quickly. His intent at the crease is fantastic and he has the energy to lift the side when it is needed most. Hopefully JT fulfills his potential in the next couple of seasons and scores a bucket of runs.

JT also provides a good back up option behind the stumps, a role that I can see him claiming permanently in the fore-coming years. For the time being, keep dropping sitters and blaming the sun.

One of the first names on the team sheet for me, for one reason alone. He provides the team mascot. Archie . He keeps the youngsters alive in pre match football and his off/on relationship stories are also quite entertaining for the boys.

8. Jordon Farrell

Only had the pleasure of playing a handful of games with Faz last year, but he saved out skin a few times. Fits into the plethora of right arm meds beautifully, and adds something a bit different as he is often able to extract something extra out of the surface.

His undying love for Manchester United nearly got him out of my team, but his purple spikes just about made up for it. The contrasting batting ability that Faz shows when wearing a cap instead of a helmet is outstanding, hence why he burgles a spot at 8. However, if the lid comes out, he'll have to drop down a couple of places. Loves a beer, shit tipster, great dog.

9. Ryan Budd

It's about time that Buddy sheds his tag of "The greatest Number XI', and i'm going to be the one to buck the trend so to speak.

Standing at 8'4", Buddy is the most talented bowler currently at the club in my opinion. A combination of his height, his ability move the ball, and his consistency made him a handful during out league winning campaign two years ago. For all money he looks like he should be able to bowl 20mph quicker, and everybody dreams of the day that we will see it regularly. For now we will just have to remember that one ball against the 7 year old who put you through the covers the ball before. Nasty.

Buddy is the epitome of club-man and 100% holds the clubs interests at heart, which provides fuel for chat on the sideline. It is entirely his fault if we dont acquire an overseas whenever its mentioned, so much so, that it's kind of an unwritten rule that Jimmy and Buddy sit as far apart as possible when watching from the pavilion.

Everyone dreams that the oldies football team may eventually score a goal from one of his long throw ins, but having seen it attempted every week for three seasons, its never going to work. Buddy is the brains of the team and frequently shuts down any attempt at anyone else trying to be clever by working out their riddles instantaneously.

10. Nathan Perry (The General)

Sir Nath, where to start. That clip past square leg. I'd pick you on that alone to be honest.

I dont think ive played with a more nervous cricketer before he is called upon. The classic over-thinker just before going out to bat. However when Pez settles at the crease and lets his ability take over he is very effective with both bat and ball.

It was in our promotion push out of div 5 that Pez had his best year ive seen with the ball. Week in, week out, he provided, and was a massive factor behind us winning the league. The five-for away at Ram when we were completely down and out turned the game, and I have to mention the Arundel game again. 4 bag with the ball and a match winning 15 or so with the bat to carry us over the line when we were 9 down. His ability to turn up when we need him the most is what gets Pezza comfortably into this team for me.

Everyone loves the unpredictability of Pez on the field. Some weeks we will get a Graeme Swann-esque bowling display, the next it could be Pavel Florin. One thing is for certain though, Pez will be in the Crown the night before the game.

Top bloke and a blue jug enthusiast. Rate it.


11. Amjad Mohsin

Harshly down at XI but I had to get Buddy up the order. Jammy will play the floating role in the side. This selection comes in good faith that every team playing below Sussex div 2 needs a player that uses a 'boom boom' bat. I also reckon that back in the day Jammy would've been a handful for any opposition, both with bat and ball.

His 'in your face attitude' has been great to see when he has stepped into the first XI over the last few seasons and he is never one to back down from a challenge, just ask Crawley CC. He will play whatever role you ask him to, and do so to the best of his ability. One day in the near future he will score a 40 ball ton and I just hope im there to see it.

Provides a decent camera lens for gun pics, for when super Graham Turner isn't about. Old school, legend.