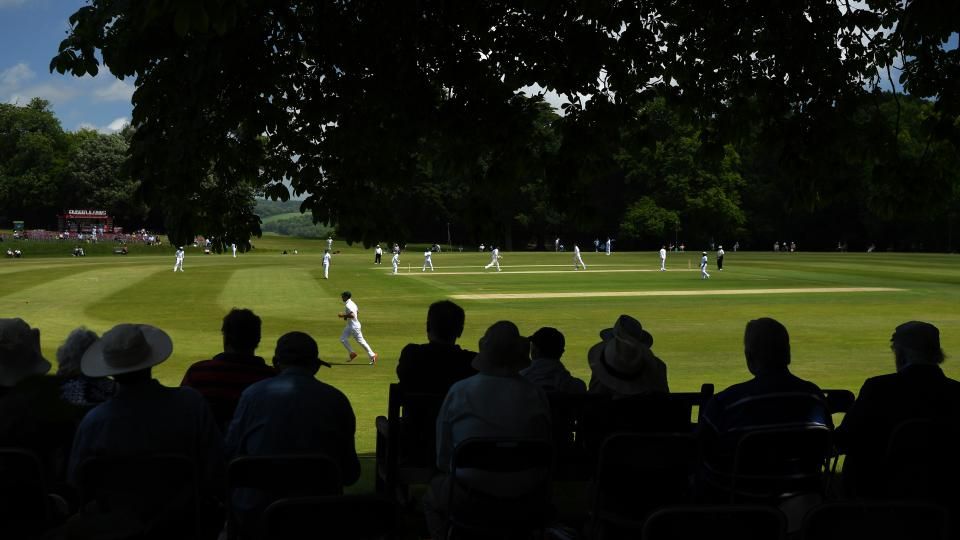 I have been lucky over the years to have been visited a number of different grounds around this country and overseas to see cricket. I guess having a father who loves cricket brought me up to check out games in all sorts of places with great pleasure. I have listed a few in no particular order with some of the memories that go with the grounds.
Arundel Castle Cricket ground
We are blessed to have such a wonderful cricket venue on our doorstep. I remember my first visit was watching ladies cricket. I came across a guy who was the sports editor of the university newspaper I worked on many years ago. I recall him telling me that you will not come across a better place to watch cricket. Nobody would argue with him.
As a local one of the pleasures is bumping into a lot of friends on the way round the ground. A Challen is usually on the roller, Fozzy is sat with a fine picnic laid out before him and Pete is ready to buy me a pint of Harvey's. Hugh Griffiths our former President is usually around. I even recall some cricket on the outfield with a young Dazzler and his dad. A few years back I crept into the members only to find my godfather unexpectedly at the bar. It was a pleasure spending the afternoon speaking to him. We didn't watch much cricket.
The view across the South Downs, the fine cakes in the tea bar, the immaculate outfield and even some good cricket to watch on occasion make Arundel a perfect place to spend an afternoon.
Northlands Road, Southampton
This old school cricket ground is now a Sainsbury's but provided a few days of happy memories in amongst the dilapidated pavilion and other buildings. Northlands Road was a perfect place for an afternoon watching county championship cricket with a few others in the crowd. The AGEAS Bowl is a great replacement but doesn't have the character of the old ground. I remember a visit during a cricket tour with Long Ashton Cricket Club. We had bumped into Dessie Kenway, the Hampshire wicketkeeper, in a bar a few days before the one day game. The beer was flowing and the banter was good. With a few beers inside at the game Dessie enjoyed our support from the cheap seats.
My father popped into Northlands Road mid-afternoon on a working day to catch a bit of cricket before heading back to Bristol. The ground was fairly packed and he perched himself on a seat in between two tents. As he sat down the young girl serving asked if he would like a beer or a wine. He had a beer with the compliments of some sponsors tent without even knowing he was in it. He declined the offer to pop into the tent and get his afternoon scones and jam thinking this might be pushing it too far.
There are not too many grounds like Northlands Road any more.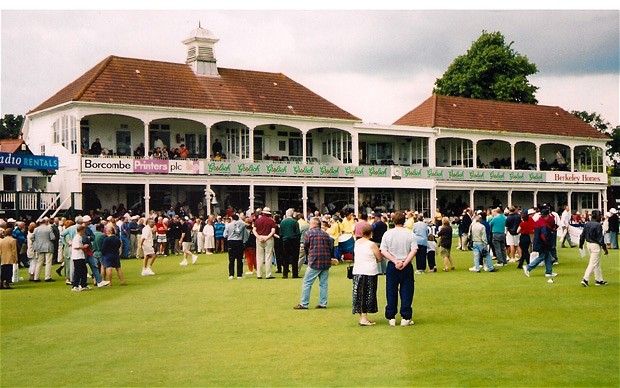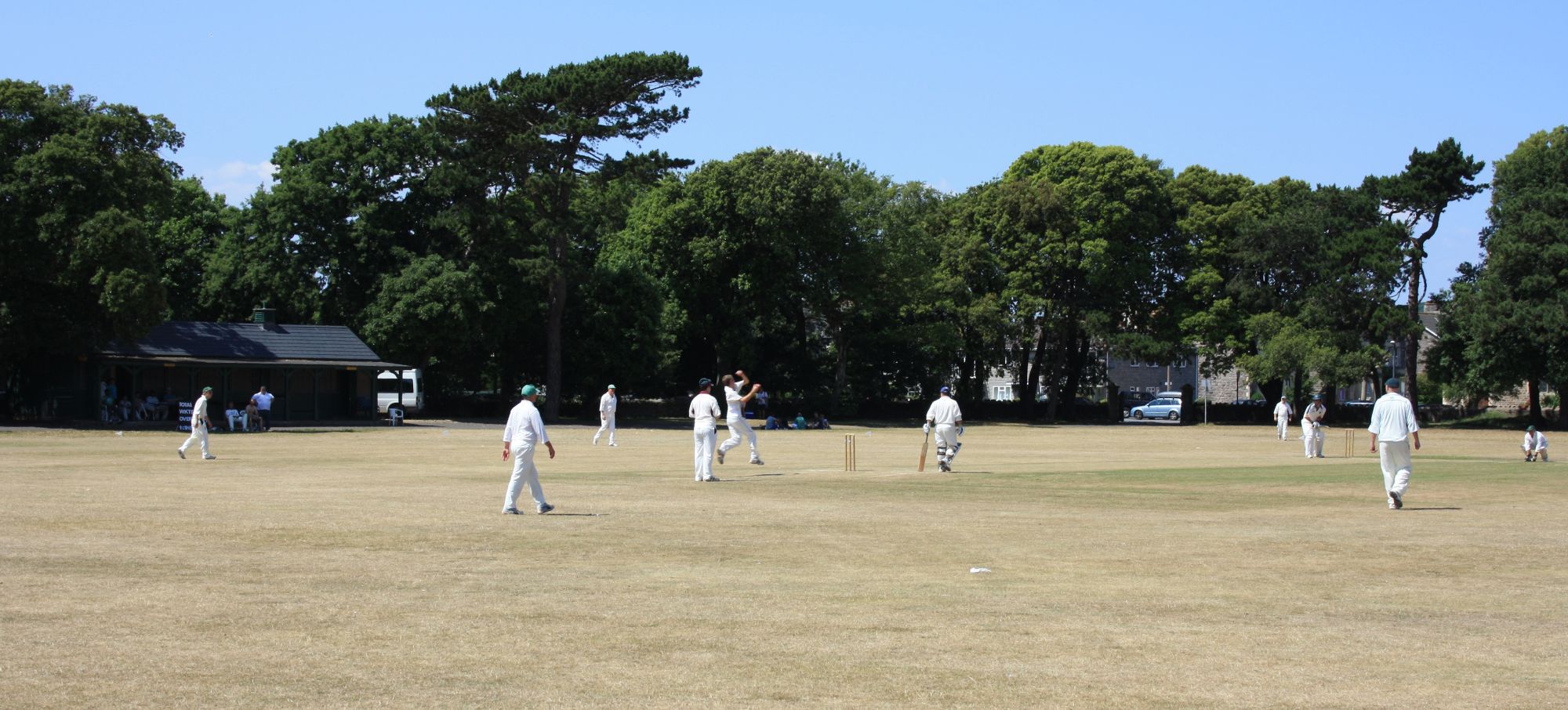 Clarence Park, Weston Super Mare
This out ground for Somerset was not always enjoyed by the players with changing facilities reminiscent of Clapham & Patching. The festival week at Weston always brought a buzz to the town. My grandfather and his pals would buy a ticket for the week. It was something everyone looked forward to in the seaside town. Lots of Brummies would book their holiday week to coincide with the Weston festival.
I have lots of memories as a youngster bringing in my bat and ball to practice behind the stands. As I got a bit older watching the cricket became more interesting especially with Viv Richards and Ian Botham.
My grandfather's last day of watching cricket was at Clarence Park. As a pretty ill old man Ian Botham put on a masterclass of how to demolish a bowling attack. The small ground lent itself to the ball being despatched out of the ground. Botham was now playing for Worcestershire so the crowd was packed. He had just come back from a drugs ban and wanted to stick two fingers up to authorities. He relished the small boundaries even if the wicket was not quite up to scratch. He did in style with a 100 in no time. I don't think Peter Roebuck enjoyed the afternoon.
Sadly today the ground doesn't even have club cricket. It certainly brings back some good memories for me.
Newlands, Cape Town
I have had the pleasure of visiting this ground twice. I was lucky to watch some cricket the second time courtesy of a ticket from our former overseas, Siya Sibya. Siya was working with Western Province coaching the under 15's prior to working with the South Africa national team.
This ground is in many lists of top grounds in the world. The backdrop of Table Mountain and the waft of beer from the neighbouring Castle brewery make this a special place. My wife was less enthusiastic to spend an afternoon at the cricket but was convinced by the idea she could read a book and look at the view if the cricket became less interesting.
My first visit was with an American colleague who knew little or nothing about cricket. Paul Philipson who played cricket for Sussex before relocating to South Africa proved too be a great guide taking us into the dressing rooms, umpires room and even the committee room. Paul had organised for Siya to come to Littlehampton. My colleague came out of the visit encouraged to return on a match day. The enthusiasm and energy of Paul was great. A real ambassador for cricket and Newlands if one is needed.
If you are in Cape Town do take a chance to visit this ground. It has something magical about it.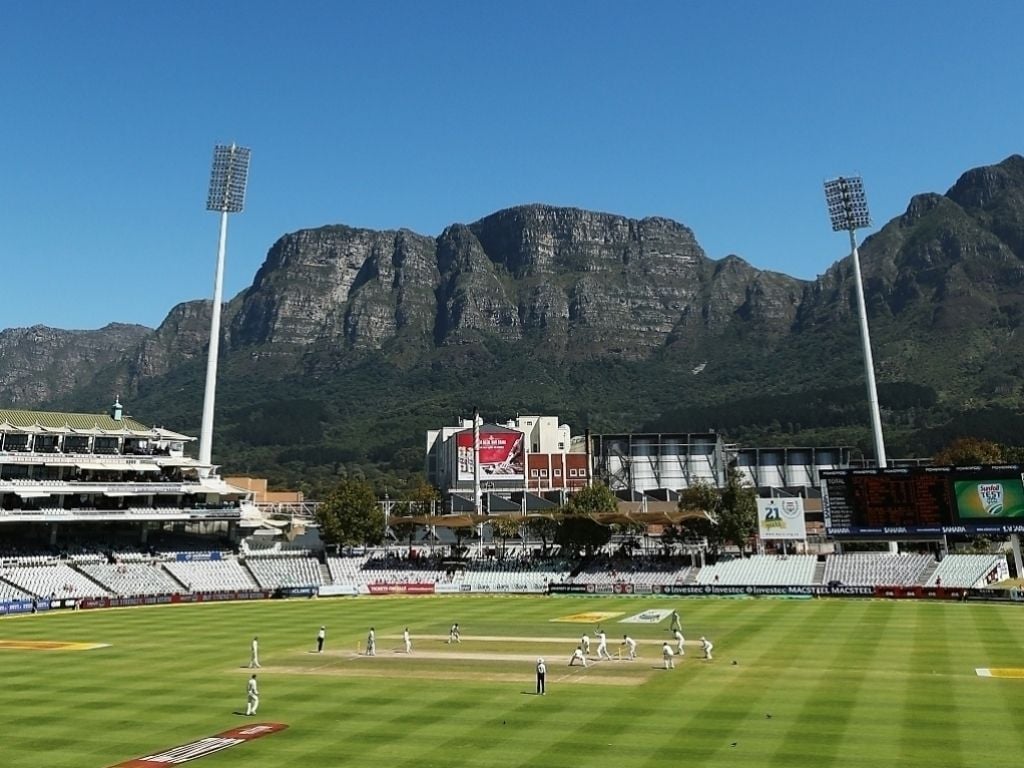 The Saffrons, Eastbourne
My first visit came to Sussex as a youngster on holiday with my family. We stayed at Polegate and as well as the standard family summer holiday visits my father suggested my mother and young brothers explored Eastbourne whilst we had an afternoon at the cricket. Nottinghamshire were playing Sussex with Hadlee and Rice bowling in tandem. The other highlight was seeing Long Ashton hero Chris Broad (father of Stuart) who had moved from Gloucestershire to Nottinghamshire with some success. I recall Eddie Hemmings bowling. My memories of Sussex cricketing heroes is vague. I need an evening with Geoff's whisky and Wisden collection to find more details although if memory serves me right Sussex were no match for Rice and Hadlee who seemed to be moving it both ways off the seam.
Little did I know that in years to come I would have a few opportunities to play on this ground. Those childhood memories left the return as a bit of a disappointment with the wicket definitely not up to county standard. A return in the crowd last summer for a Sussex one day game suggests things have improved.
The Recreation Ground, Bath
This ground is right in the city centre of Bath. You can hear the cheers and groans as you go shopping on the main street. It doesn't have the charm of some of the other out grounds next to the rugby ground but it does have an eager and enthusiastic audience. They reckon the walls of some of the houses were peppered by Gilbert Jessop sixes playing for Gloucestershire against local rivals Somerset a few years back. The marks are still there apparently.
My last visit coincided with Martin Milford's pal Stuart MacGill playing for Nottinghamshire. It was a cold afternoon where he was wishing he was elsewhere. His banter with the crowd on the boundary was great. He enjoyed some of the stick the West Country locals were giving him with a few glasses of cider inside them.
On another occasion I sadly missed a pal of mine decided a day out at the cricket in Bath would be perfect. He hadn't accounted for the weather. Gradually the supporters disappeared off to the station as the rain fell. Ross and Richard decided it was probably good to have a pint before they headed off to the station. The beer tent was lacking a bar man so they took control carefully noting their dues. One pint turned into three or maybe even four. They disappeared off to the station with a touch of a stagger having not found anyone to pay!
Hopefully cricket will return to Bath so that I can revisit this ground.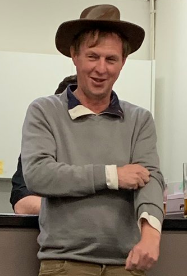 The Birbeck cricket memory works in a strange way. I remember incidents not scores or wins and losses so much. At this strange time I decided to put on paper a few of memories of my favourite grounds and incidents that bring it to mind. I am sure some will challenge the details.
I hope a few others will follow me by putting down their memories of grounds or incidents.

Clapham & Patching
A great place to play cricket. The ground and wicket was lovingly tended by Paul Hewitt, Tim Pyant and Adam Place over the years. The rabbit hole filling before a game was something everyone looked forward to! I remember Cricket Force days putting up a fence and planting Colin Oliver Redgate's tree in the corner. I remember particularly cold start of season inter club game where I hit a straight six off Richard Hanks. I think it is a memory not a dream! Mike Pursell had a good afternoon of cricket, food and drink before heading to foreign parts. I even remember a certain wedding party that took place there. Great memories.
Amberley
The scene of so many memories and league victories. A lot of time spent searching the hedge for balls or asking neighbours to return our balls (usually hit by Stewart Murray)! A highlight has to be the final game of the season in the rain against a very patient Portslade team who travelled across in less than ideal conditions on my insistence it was drying up. We needed to play to secure our league title. An abandoned game would give the title to Middleton I think. The rain continued but the great guys of Portslade carried on without complaint as we secured the title. I scored a few runs that day.
Rustington
Maybe this is not one of the grounds that cricketers might think of as the most picturesque in Sussex, with the flattest wicket or the greatest views. Rustington is dear to me as the scene of my maiden century. On a drizzly afternoon most players were keen to get home to their front rooms but I was the happiest person on earth having batted with Heberlein junior and senior to see me through to a century. I think the match was abandoned but I always turn up with a smile on my face to our local rivals following that afternoon.
Burpham
A picture postcard ground. A battle against Burpham was always going to be a struggle with Tester's and Challen's in opposition. We always needed a strong side to win at Burpham. The struggle was made more difficult with Geoff Cole suggesting lunch at the George & Dragon as it was then. A good lunch and a bottle or two of red wine may have inhibited our performance. Dan Rive volunteered to wicket keep. A noble chap he is but not the finest wicketkeeper after a bottle of red. Another memory has to be of a certain Burpham legend coming out to bat with one pad on to finish off the game. He holed out off the enigmatic bowling of Birbeck. Mike Askew took a fine catch on the boundary.
Tillington
I only played once at this ground. A typical beautiful Sussex village ground. A fine Saxon church with the Corona atop the tower. My main memory of this was of it being the only time I played with Colin Treagus. As Sunday second eleven captain Colin stepped into the breach after a late call up. A Littlehampton legend who has always been willing to help out umpiring in more matches than I care to remember.
Lynchmere
This ground is beautiful when you find it. It is on the edge of three counties. We would get lost each time we went to play them. Each year the games would be close whether at the Sportsfield or at their beautiful ground. The large trees surrounding the ground as well as a wonderful tea in the barn down the lane. As Kev Staight had just passed his driving test he volunteered to drive. He brought along Will Campbell who proceeded to take a five for. I am sure his cousin Wes would have come out with a few choice words about that! Another memory was of Russell Nicholls making his debut for Littlehampton and enjoying a Colin Olly tea time speech. Good memories.
Storrington
This historic Sussex ground has evidence of the star players of yesteryear even a young Andy Lee in the pavilion. My main memory of Storrington is needing to make sure that any time I went out to bat I must not let the ball hit my pads. Each year the local aged umpire would raise his finger against me seemingly wherever the ball pitched. One year I was out umpiring with him after having been sent off to the pavilion earlier. At the end of the first over I umpired he let a seventh ball be bowled. This happened a few times before I consulted with him to realise he had seven stones in his hand!
Elsted
This place has confused a few in the past with Jim Brown and Paul Askew both having trips to the other Elstead. It is worth seeking out with the fine hostelry across the road from the ground. It is that good that the team decided to go for lunch in spite of the game being called off in the morning. It was also where that cricketing legend of the past Chris Fell was popular with the barmaids. He became Blossom following on from this incident. The view from the ground is fantastic. Well worth a visit. The teas at Elsted are to die for with smoked salmon sandwiches a particularly happy memory. I wonder if this was what tempted Littlehampton legend Ken Chapman to go and play for them for a few seasons.