Weekend Review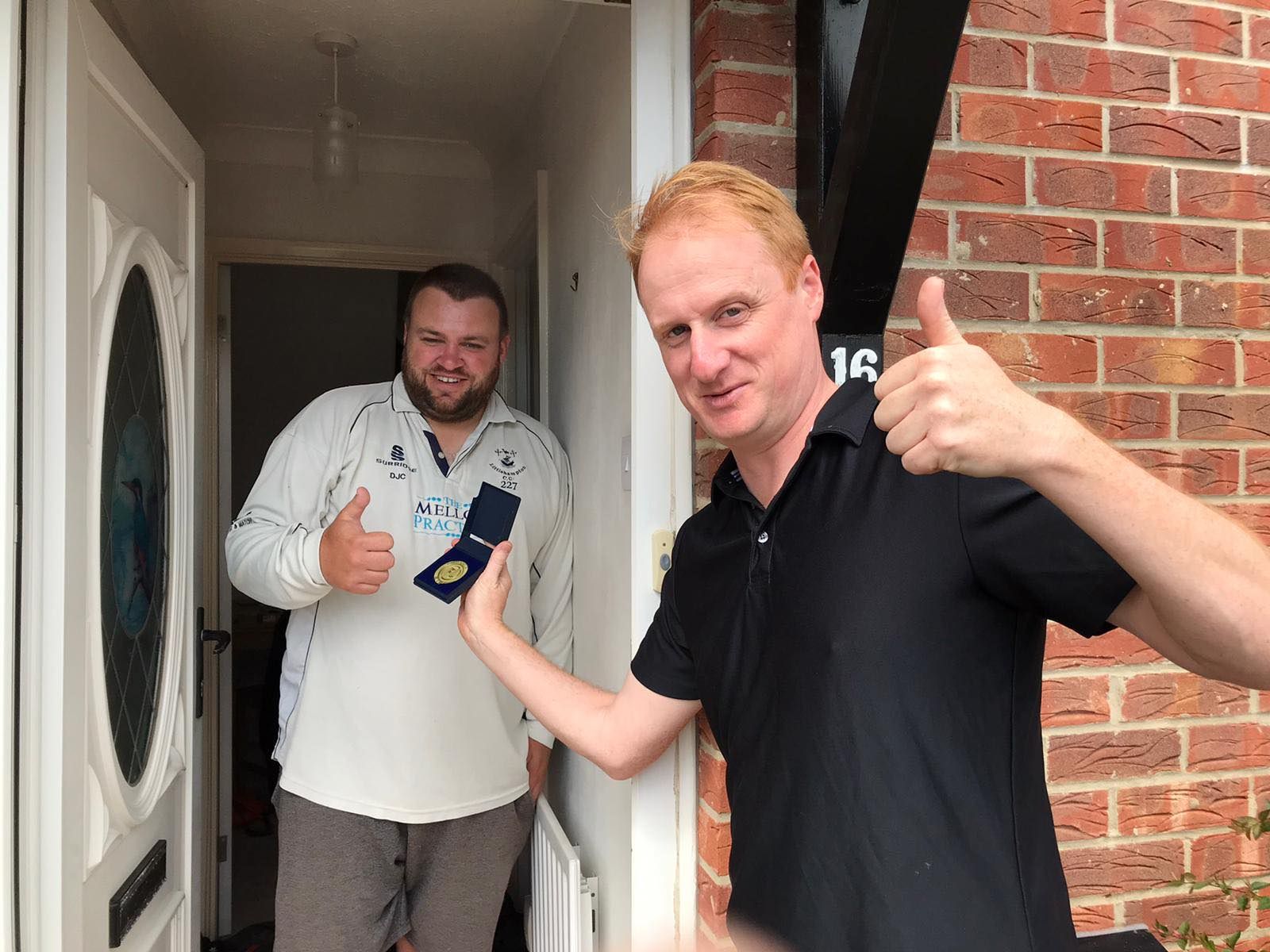 Our first weekend review of the season comes in August as the league teams returned to competitive action. It wasn't the best of starts for the club in the August Cup as only Dan Rive's 3rd team came away victorious. The Sunday side came away with a rare win at Madehurst.
Game of the weekend – 3rd XI beat Chippingdale by 5 wickets
Finally, the start of the season, 3 months late. Nothing ever changes though as I lost the toss and Chipps decided to bat. Raj opened up as if had been bowling all year, whereas Stu first over was a bit rusty. He went for 20% of his runs he conceded in his first over. Stu took two early wickets and Chipps struggled from there as he removed son and father. The second wicket being a disguised slower ball. Mark and Henry replaced the openers and wickets fell regularly as Mark took 3 in his 8 over spell. Chipps found runs hard to score and LA remained on top. Will took a wicket in first over, finishing with two and Henry on his return wrapped up the tail finishing with 3. Excellent fielding from LA with two catches from Ben saw Chipps post 115 ao in 39.5 overs.
LA opened with Birbs and Andy after a first ball shout, Ian was first to go with the score on 15. Sam started how he left off in the 20/20 hitting anything loose. Run rate was not a problem. Andy departed csught at slip and Dave was out Lbw, 3 down with 30 on the board. LA were soon 4 down as Sam was bowled for 16. Dan and Stu then rebuilt and put on 40+ before Dan was dismissed for 25 with the score on 89. Stu and Raj then saw us home with 8 overs left. Stu finishing on 26 and Raj 17.
LCC win by 5 wickets. Thanks to Lloyd for umpiring and Graham W for scoring.
By Dan Rive
Full Scorecard HERE
1st XI lost to Findon by 14 runs
The first team headed to Findon for the first round of fixtures in the August Cup. Skipper James Askew lost the toss and Findon decided to bat first on a wicket that resembled a putting green (but played fine). Chris Heberlein (2-22) and Andy Greig (0-57) took the new ball, with Greigy attempting to bowl "wiffers". The plan didn't quite come off, and Greigy soon reverted back to his off-spin. Findon got off to a flyer as Findons opener bludgeoned a quickfire 27. Heberlein trapped him LBW, and then first change bowlers Ryan Budd (1-49) and Nathan Perry (2-27) quickly removed the rest of the top 4 to leave Findon 60-4. Disaster then struck as Jack Turner had to be taken to hospital for a suspected dislocated thumb. Findons middle order used this as an advantage as they easily manipulated the 10 man field with Findons number 6 hitting 104. Dan White (1-38) removed Findons number 7 and then part time bowler Ally James (4-28) was bought on to clean up the tail with his accurate bowling. Findon were bowled out for 225 in the last over.
J.Askew (48) and Heberlein (1) opened the batting but Heberlein didn't last long. Brad James (40) joined the skipper at the crease and just like the good old days for the colts, they started to pile on the runs together. They put on 100 for the 2nd wicket until the skipper played one too many hoicks and was bowled. A.James (7) joined his brother and hit a huge 6 but was then out LBW soon after from one that kept rather low. B.James was going well until Louis Paul (8) ran him out and then Louis proceeded to get stumped from a leg side wide. With 4 wickets falling in the space of 8 overs, the run rate creeped up to above 8's. Mike Askew (33) tried to decrease the run rate by hitting 3 sixes but he was then caught up the hill trying for a fourth maximum. Greig was trapped LBW first ball which kind of summed his day up. Perry (17*) and Budd (10*) took the team over the 200 mark but the 1's fell 14 runs short. Next up in the August Cup is Henfield at The Sportsfield.
Full Scorecard HERE
2nd XI lost to Rustington by 122 runs
On another belter of a Sportsman track, LA unfortunately lost the toss, and as expected Rustington chose to bat.
We didn't get off to the best of starts. Opening bowler Zack was bang on time, for a 12.30 meet at Rustington, but unfortunately we were scheduled for a 12.30 start at Littlehampton.
Their openers set about our bowling attack with relish, David Rogers with a classical technique and Ben West with a keen focus on hoiking agriculturally across the line, albeit with a decent eye. Lucas was unlucky, and multiple play and misses + some strong LBW shouts warranted a wicket in his first spell but it wasn't to be.
Otherwise our bowling was disappointing in the opening stages, as was our fielding. Their openers raced to 100 within just over 10 overs, and a total of 350 looked very feasible. At 20 overs it was looking just as bad, with still no wickets on the board and Rustington approaching 170. And then 2 things happened:
• Bazley exerted control with the ball by bowling a cunning and original combination of line and length
• Talisman and local affineur Theo Hemsley started weaving his magic with the ball, using the cunning and original idea of line and length
This, combined with some improved fielding, meant we recovered superbly in the second 20 to restrict them to 259 all out. Theo finished with 5 wickets, but didn't bother to get a jug/cheeseboard in for his loyal teammates, instead going home to watch a meaningless football match.
Hopes were high that we would make, at the very least, a worthy effort at the chase, but we did not start well. Harry (5) nicked off early, before Bazley (7) soon followed, snicking off as well. Pacey opening bowler Finlay Gardener picked up number 3 Sam Mellor (0) who was out (all excuses aside, but seriously) to ball of the day, a rapid yorker that hit the base of middle stump.
Number 4 Olly (7) looked solid and was batting sensibly, unlike his bowling earlier which had resembled (slow) baseball pitches. He looked like he was setting himself up for a long knock, and with what he can be capable of this gave us the outside possibility of still chasing down the target despite the 3 early wickets. Unfortunately, just as bowler Robert Matthews was coming into bowl Olly was struck by a horrifying flashback to his bowling spell from that day and looped the ball up for an easy catch.
At 40-4 we had Dan Clarke (59) (STONE) and youngster Jacob Flint (13*/14**) at the crease. They batted wisely, and helped the scoreboard to recover somewhat, before Jacob was out caught having batted admirably in his first knock for the 2s. Clarkey batted well for his second 50 for the 2s, and celebrated the following day with a gold medal award that he has pinned up on his fridge.
*score **age
Jordan (10) came in, played one of the greatest on-drives ever seen at The Sportsman, and then hit a weak lob up to slip next ball. Rustington then made fairly short work of the LCC tail to bowl us out for 137, with Clarkey as the last wicket. We lost, cos 137 is less than 259.
By Sam Mellor
Full Scorecard HERE
4th XI lost to Worthing by 7 wickets
After a late switch in Sussex Cup Groups the 4s arrived at the Manor Ground with a much changed line up against an experienced worthing lineup. Debut for Chatuvan and welcome returns for Georgie Heberlein and Shaun Keyte after long absences. Undaunted the team set about their task and after the skip winning the toss, electing to bat and getting out quickly, Shaun Keyte and George BN set up about teh attack. 59 in quick time for the second wicket. Passing 60 in the 11th over at which point there were comments about the run rate being great and few wickets down. At which point they started dropping. George top scored with a personal best of 40, and Chatuvan (23) and Dan foot put down an early marker on the tail enders with a healthy 37. There were some good confident shots from the team, but unfortunately we were all out in 24th over for a quick-fire 144.
The reply was a comfortable chase with a few scares fir worthing, with an opener being shelled Chatuvan's second over. The wickets were shared between Chatuvan, Matt W and Sam F. Dan F followed an economical 4 overs for 11 at the top of the innings.
Once again a big thank you to Andy Wilkinson for umpiring as it allows us to play so many colts and manage the other end.
Whilst the result wasn't what we hoped for, there were lots of strong signs for the rest of the cup. Worthing commented on the spirit in which the game was played and the strength of the younger players which bodes well for our future. Let's see what week 2 brings.
By Tim Hemsley
Full Scorecard HERE
Sunday XI beat Madehurst by 6 wickets
On a rather sunny Sunday, we made our way to the Madehurst bowl, the Corona Virus making sure we miss out on one of the best teas in the summer!
Madehurst won the toss and decided to bat. Raj and Zack opened the bowling, but with the hardness of the ball and speed of the outfield runs were easy to come by for Madehurst and they were 44 off the first 8 overs.
Realising the need to make a change, Dan White and Henry Howsen came on to bowl. The change worked with only 12 runs coming from the next 6 overs and Dan White taking an impressive caught and bowled to remove j.martin (26).
Next to bowl were Finn McCrae (making his Sunday debut) and Jake Howsen. Jake striking in his first over to remove G.Swales (46) having him caught in the deep by Mikey. Finn also took his first Sunday wicket in his fifth over having Tod (19) caught at mid off by Dazzler.
Raj and Zack's return spells were incredibly devastating, bowling 3 wickets in their 5 overs. Mike Askew finished proceedings taking 2 wickets in his 2 overs. Madehurst finished, setting a total of 178.
Dazzler and Mikey kicked off the batting for Littlehampton, after a couple of watchful overs, the pair started kicking on, hitting 48 in 8 overs. Bazely (24) the snicked behind in the 9th over, Buddy then came in, supporting Mike to anoth 50. Askew (62) was finally out in the 20th over trying to push on and hitting a slow ball straight into the air which was claimed by the keeper.
This saw the beginning of a collapse as Duffell and the captain both went for ducks. This brought Dan White (34no) to the crease and between him and Buddy (43no) they managed to get Littlehampton over the line in the 35th over.
All in all, a good days cricket and the Sunday XI get their first win of the season. Thanks again to Madehurst, always an enjoyable game!
By Sam Pannell
Full Scorecard HERE