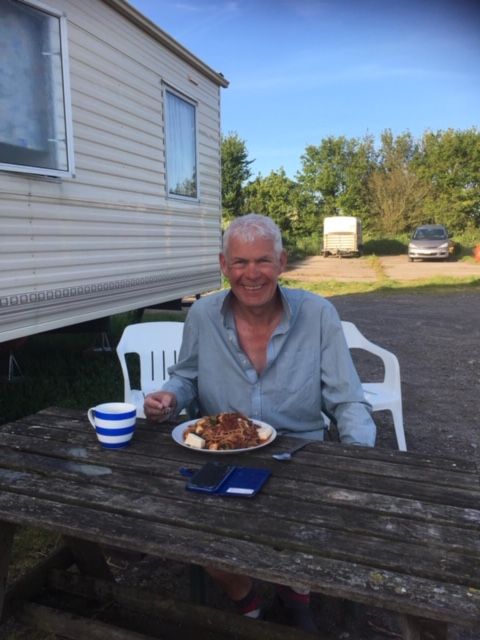 Ian Birbeck. Possible the nicest man ever to have played cricket in Sussex anywhere at any level. Up there with John Barclay in affability. Birbs, the left-handed run accumulator par excellence. It's been suggested he has a limited range of shots, but so what, if what you have gets lots of runs. It was an honour to witness his 150 at the Arundel club. He completed it with a six cut over the cover boundary fence. Yes, it was a short boundary on their second field. Yes, it was a small field covered in molehills, but yes, it was an amazing innings. Boundaries through Cover and behind Cover Point were Ian's bread and butter, (not a lot of jam seemed available). Ian was a scrupulously even-handed captain. When I first joined the club, he wanted everyone in his team, the 3rd XI, to be involved. When we played at Amberley one afternoon I took 5 wickets and he took me off very disappointed with himself. He said "Is that five? I thought you only had four." My getting five meant other bowlers had fewer batsmen to feed off, so Ian felt he'd not shared out the pickings equitably. Ian's catching sometimes took second place to his captaincy in the field. There was never any guarantee a chance would be held, which made his stunning, unlikely catches all the more magical.
Dan Clarke morphed from an enthusiastic regular on the team sheet, to an enthusiastic and reliable cricketer through sheer will power. Probably too able to see all sides of an argument for my liking, Dan was always a counter-balance to any left-wing radical-extremist talk during the tea interval. It was on the far field at Billingshurst that I was privileged to be Dan's partner at the crease when he scored his maiden half-century. Colin Treagus, our umpire, was dispensing his usual acerbic asides about our poor top order and the slow scoring when I took my turn on the pitch. We were both disappointed to see another wicket fall without many more runs being added, before Dan plodded out to join me. It had been difficult to get runs that afternoon, but I encouraged Clarkey to try and push for any run we could on the dry, dusty outfield. We turned dot balls into ones, ones into twos and twos into threes, despite the dry heat and Dan's weight penalty. I was sure we could get a decent score on the board and Dan had the grit to throw himself into the challenge. Between us we put on 99 runs during which Dan scored his first 50. In the end he'd had enough of running. Having got his eye in he just smashed a six over Long On to complete our innings and set a winning total. Dan has worked hard at his catching over the years, but I still lose sleep over the time he dropped a high one in Cow Corner at Horsham Trinity, thereby allowing the Welshman to hit 160 or so runs. I believe the ball hit Dan in the chest before his hands were even cupped. As an aside, Jordon Atkinson actually stumped the bloke off my bowling, but their skipper, as Square Leg umpire was not watching - even though their scorer said he was "so out it was embarrassing." Dan is another hard-working club stalwart, like Ian and Ryan Budd. LCPCC is blessed with an abundance of top calibre clubmen.
Kevin Staight. Played against him in the nets more often than alongside him on the field. I do partly remember opening the batting with Kevin in a friendly match somewhere near Devil's Dyke one weekend, although I am not sure of the opposition. It was a fast-scoring partnership that I enjoyed. Kevin is able to talk about cricket in greater detail and with more insight than many players. Kevin can explain what is happening as a ball comes down the pitch as he faces a bowler. Many others know what he knows too, but Kev is able to articulate that knowledge and pass on understanding. A talented batsman and fielder who didn't play as often as he might have done due to his commitments to family and the demands of his work. Where would cricket be as a sport if we all had taken that same selfless attitude? Answer me that, Kevin.
Jordan Atkinson. Is 4 the right place for Jordo? Or 3? Or 1? Or 2? He has an elegant batting style, but it can be hard to know whether he and his talent have coordinated diaries for any particular match day in advance. When they turn up together, it's a good day. A little bit cautious as a runner, to the frustration of his team-mates, but capable of decent scores. I greatly enjoyed my time in the 2nd XI with Jordon at the helm. He gave me plenty of opportunities to bowl, including with the new cherry. This made me the oldest and slowest opening bowler in the league at that time, (does Rivo still open any bowling?). Whatever, it worked for us and despite Jordan's inexperience as skipper, he did a good job; learning as he went, whilst also trying to finish his studies, manage a blossoming romance and find his brother's bicycle. Not a great explainer of his captaincy decisions, but always doing his best to improve, whilst suffering poor batting form for much of two summers.
George Perry, my son. LCPCC eased George back into cricket, which he and I both appreciated. He really enjoyed playing at the club before returning to play for Priory Park with his old school and colts mates for a couple of seasons. My choice for wicket-keeper and number 5 batsman. He is working as a specialist nurse in the ICU team at QA Hospital in Cosham. I am sure you will all wish him well.
Will Kitchen. Raw talent. Will was probably the best leg-break bowler of his type playing at 3rd XI level when I joined LA. His fluid bowling style produced loop, bounce and turn that could be unplayable. His batting could be imperious. His ability to play an instinctive cover or straight drive with a flash of the willow was marvellous. For a number of understandable reasons Will's availability was sporadic, but a young player of genuine talent and potential when we played for the 3rds together. He could also pull out catches with some breath-taking reactions, stunning the batsman and his fielding team-mates in the process. For a player lacking natural speed and with a haircut at that time that must have impaired his vision, Will often proved the cynics wrong on the field. I particularly remember one skyer he took by the A23 one Saturday afternoon in a table top crunch game. We'd had an early tea break while the ball was in orbit and returned in good time to watch the waiting Will smoothly snaffle one of three great catches that afternoon in a winning performance.
Chris Perry. I will be ever grateful to LCPCC for my time playing at the club. My cricket apprenticeship in village friendly cricket went on far too long. I had five tremendously enjoyable seasons at this club and played the best cricket of my life there, despite being 50 years old when I joined. With the exception of two short seasons running the 3rd XI at Chichester and one game in the Hertfordshire league in 1998, Littlehampton was my league cricket "career." My only regrets are not seeing Geoff Cole being able to run a single and having Darren Baizley as my 2nd XI skipper for a few games - he never bowled me because he thought I was a batsman. I believe it cost the 2nd XI a few matches they might have won and him the captaincy at the end of that season. By the way, I'll skipper my own XI, it seems only right.
Ryan Budd came back into cricket after his unpleasant bicycling accident in a 3rd XI match down at Goring. A hot day. It was a delight to have Ryan join us and allow our skipper the luxury of setting a proper slip cordon. I think he took 3 wickets that afternoon, allowing me a chance to complete a low catch at 4th slip. A player who can bat too. I had not realised quite what a talent Ryan was until that afternoon - he'd been injured all season. As we left the field I recall saying to him, "With bowling like that you'll be back with us next week." He wasn't, having returned to the 1st XI.
Sam Pannell. I have never played in a team where anyone has more enthusiasm, willingness to participate and appreciation of every second spent on the cricket field than Sam. Sam, bat where you like. Ask if you want to bowl. It's a joy to have you in the XI.
Amjad. Like Pele, Houdini and Prince, only one name needed for this character. Selected at ten, but able to do any job in the batting line up with a vengeance, as well as bowl ferociously. He is in my side because I would never want to play against him. Absolute dynamite on his day, although another approximate catcher of the ball. We'll have to bowl the oppo' out it seems.
Darren Bazley. Totally mad about cricket. Super fielder. Hard working batsman. Erratic bowler. Dirty kit. Overthought the game, tried everything, (except my bowling), desperately disappointed if he failed to meet his own high expectations. Thought that stuff he'd seen in super-slow-motion in one day internationals on SKY was what we should all aspire to and be capable of achieving for LA. Lovely bloke who I really enjoyed playing the game with. Not an entirely rational choice, I admit, but I won't let the fact he never bowled me count against his selection. He'll bat at 11 and only field at Deep Third Man, (both ends). I can't imagine there will be any circumstances in Heaven or on Earth when he might be used as a bowler.
Love to you all at LCPCC
Chris Perry